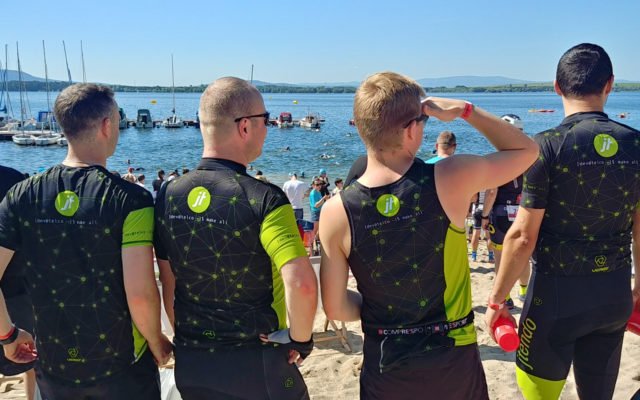 The
Power
is in the People
jtendo is looking for talented, creative and passionate people to join our team.
a team player
self-managing
hungry for knowledge & eager to learn
solution oriented & focused on problem solving
We are currently looking for
Create innovative solutions // Deliver challenging projects // Learn new technologies //
Meet and work with interesting people
Support and Integration Engineer
Support and Integration Engineer
Integration of new solutions/products for telco operators (examples of products: various IN/VAS services, VPBX, SS7/Diameter Firewall, GTP Proxy)
Taking an active part in all phases of projects (design, testing, integration, support, enhancements)
Developing tools to provision, monitor, automate and integrate existing and new infrastructure systems
Supporting existing telco platforms based on Linux, Java, JSLEE, Erlang and common open-source software (2nd/3rd line of support)
Preparing technical documentation
strong background in Linux administration (RHEL/CentOS preferred, level RHCSA+)
strong background in DB administration (MySQL and/or PostgreSQL)
knowledge and experience in using SQL
strong background in TCP/IP stack and troubleshooting network issues
scripting experience (at least one of: Bash, Python, Perl)
English – at least B2 level
knowledge of telco protocols like SS7, Diameter, SIP, GTP
knowledge of mobile networks architecture – GSM/3G/LTE/IMS
knowledge & practice with designing highly available systems
knowledge & practice with configuring web servers (Apache httpd, NGINX)
knowledge & practice with at least one of: Nagios, Zabbix, Elasticsearch, Prometheus
knowledge of virtualization platforms (VMware, OpenStack, Proxmox)
knowledge of Cloud Native technologies (Kubernetes, OpenShift)
knowledge & practice with CI/CD tools like Jenkins, Ansible
Apply: hr [at] jtendo.com
Osoba zatrudniona na tym stanowisku zaangażowana będzie we wszystkie etapy projektów (wraz z nabywaniem odpowiednich kompetencji) – począwszy od specyfikacji wymagań, poprzez implementację, testowanie, wdrożenie, aż po utrzymanie i rozwój.
Poziom wiedzy i kwalifikacje
Doświadczenie w programowaniu w języku JAVA – min. 2 lata
Umiejętność projektowania oprogramowania i programowanie obiektowe
Wiedza na temat architektury sieci telekomunikacyjnej pod kątem realizacji tych usług
Ogólna znajomość protokołów telekomunikacyjnych używanych w IN: CAP, MAP, SIP, Diameter, GTP
Znajomość architektury klient – serwer, programowania systemowego (backend) oraz sieciowego
Mile widziane doświadczenie z programowaniem dostępu do danych – JDBC / SQL, LDAP, Elasticsearch, Logstash, Kibana
Znajomość języka angielskiego w stopniu dobrym – poziom B2
Pracę w przyjaznej, niekorporacyjnej atmosferze
Zdobycie wiedzy i doświadczenia w tworzeniu rozwiązań 5G oraz platform sieci inteligentnej
Innowacyjne i unikalne projekty, wdrażane w oparciu o najnowsze technologie również w domenie technicznej operatorów telekomunikacyjnych
Międzynarodowe projekty m.in. na Karaibach, w Indonezji czy na wyspie Reunion
Gwarancja ciągłego rozwoju i ciekawych zadań
Elastyczny wymiar czasu pracy i możliwość pracy zdalnej
Pakiet świadczeń medycznych, karta MultiSport
Apply: hr [at] jtendo.com
Przygotowanie zleceń i protokołów odbioru.
Kontrola i rejestr faktur przychodzących, przygotowanie kompletu dokumentów dla księgowości.
Organizacja podróży służbowych, rozliczanie delegacji.
Przygotowanie, skanowanie, archiwizacja umów i innych dokumentów.
Organizacja i obsługa imprez firmowych.
Zaopatrzenie biura w artykuły biurowe i spożywcze.
Inne zadania ad hoc.
Poziom wiedzy i kwalifikacje
Wykształcenie min. średnie / preferowane wyższe lub w trakcie studiów.
Doświadczenie na podobnym stanowisku.
Język angielski na poziomie B1.
Znajomość pakietu MS Office.
Umiejętność pracy w zespole.
Komunikatywność i otwartość.
Samodzielność, dokładność, sumienność w realizacji zadań.
Pracę w przyjaznej, niekorporacyjnej atmosferze
Stabilne, pewne warunki zatrudnienia.
Życzliwą atmosferę w pracy.
Pakiet świadczeń medycznych, karta MultiSport
Apply: hr [at] jtendo.com